Upcoming events at Integral Awakenings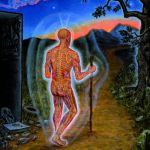 Integral Awakenings supports the embodied spiritual awakening of all people everywhere. Our mission is to make awakening accessible and relevant to everyone. There is no need to become a monk or nun or to leave society to find enlightenment. The path to awakening begins where you are now, with you as you are. The path to your unique awakening begins with your next step.
Don't see the event you're looking for? Scroll down, then click "1 2 3 4 5 6 > " to advance to the next page of events.
Donate to Integral Awakenings
Date/Time
Event
December 21, 2023
7:00 pm - 8:15 pm


Observe the shortest and darkest day of the year as we gather to celebrate the Winter Solstice and this year's theme, "The Magic of the Dark." We will come together to share this profound day when the life-giving power of our Sun is at its annual low point. We will sit in darkness, listening for the wisdom of the dark. You will be invited to reflect on the year that has been, on what you may wish to let go of and to offer prayers and poems. The program features a guided meditation and a candle lighting as we pray for the return of the Sun!

Date: Thursday, December 21st, 7:00-8:15pm CT,
Location: On Zoom
Donation Basis: $10-25 suggested
Email bill@integralawakenings.com for more information.

Recurring Events