Upcoming events at Integral Awakenings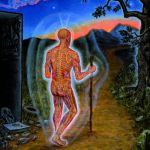 Integral Awakenings supports the embodied spiritual awakening of all people everywhere. Our mission is to make awakening accessible and relevant to everyone. There is no need to become a monk or nun or to leave society to find enlightenment. The path to awakening begins where you are now, with you as you are. The path to your unique awakening begins with your next step.
Don't see the event you're looking for? Scroll down, then click "1 2 3 4 5 6 > " to advance to the next page of events.
Donate to Integral Awakenings
Recurring Events