Check out these upcoming events at Integral Awakenings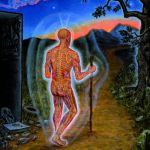 Integral Awakenings supports the embodied spiritual awakening of all people everywhere. Our mission is to make awakening accessible and relevant to everyone. There is no need to become a monk or nun or to leave society to find enlightenment. The path to awakening begins where you are now, with you as you are. The path to your unique awakening begins with your next step.
Event registration is generally required for first-time attendees at a specific program. For example, if you've never registered for Interspiritual Sundays, you need to do so once. Once you are registered for a particular program, you will automatically be on the mailing list for that program in the future.
Most programs are offered on a freewill donation basis. A suggested donation is listed but any amount is appreciated. Your generous donations support Integral Awakenings in its mission to support the evolution of consciousness in individuals, communities and the world.
Don't see the event you're looking for? Scroll down, then click "1 2 3 4 5 6 > " to advance to the next page of events.
Donate to Integral Awakenings
Recurring Events