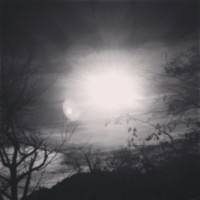 Neurology's Bias Against Bliss (and how to outsmart it)
Winter has come to Chicago. With 20 inches of fresh snow blanketing the city, life has become a little stiller, a little more basic. I am heeding winter's call to be still and rest, yet below the surface the vital activity that will surface in springtime is still present, if in the background.
Some things do not follow this seasonal pattern. I am four weeks into teaching a course on mindfulness for counselors at Loyola University, Chicago, and it has been an amazing experience. The students are great and their questions have driven me into deeper considerations of what meditation and mindfulness meditation, in particular, are really all about. One of the other gifts of teaching this course has been to spur me to do more reading on the neurology of mindfulness. What has grabbed my attention most is the idea that our neurology is wired for worst-case, survival issues – to keeping us physically alive until we can reproduce. Darwin would have predicted this, though modern neurology was unknown at his time. Now, our neurological bias has a strong upside: we're all here and not extinct. But the downside to this evolutionary strategy is that our neurology, and thus our body-mind, is geared towards sensing danger and does not do a good job of registering the positives of our life. Given that we rarely run into saber-tooth tigers these days, you could even argue that this system is outliving its usefulness.
Mindfulness teachers like Rick Hanson, author of Buddha's Brain, are writing about this and showing how mindfulness practices actually help us take in and enjoy the good moments by giving them the time and attention it takes for our body-mind to register a positive. It seems that we need to give a positive experience 15 seconds of our attention before it can register as a lasting memory. I invite you to try this practice from Rich Hanson's book, Just One Thing:  Developing a Buddha Brain One Simple Practice at a Time.
Practice for savoring the good
Reflect on the last day or so and find a "good fact," something good that happened. Maybe it was exercising, maybe following your diet. Perhaps it was following up with a friend or seeing a rainbow. Whatever you choose is fine. Here's the exercise:
1. Pick a good fact and let yourself feel good about it. Take a moment to let yourself feel good.
2. Breath into the experience of feeling good, opening your mind and body so you can fully enjoy it.
3. Visualize and actually feel the enjoyment expanding into your body, seeping into your tissues, permeating you and enlivening you.  Give yourself 30 seconds altogether to feel good.
4. Reflect on the experience of this exercise. Repeat daily.
I hope you enjoy this little gem of a practice. And I wish you the joys of the winter season. May we all have the good fortune to continue awakening to ever greater experiences of life.
Blessings,
-Bill
Upcoming Programs
I have several new programs coming this spring, including two this week. Please check them out! I'll hope to see you soon.
Skype Party
I'll be on Skype this Friday evening from 8:00-9:00pm, hanging out with friends and meeting new ones. I hope you'll put it on your calendar and stop by to say "hello." I'll be leading a short meditation at 8:20pm, but also available to share more about mindfulness and my upcoming programs. To join the conversation, you'll need to connect with me on Skype (my username is billepperly). On Friday, just log in and message me through Skype to be added to the group Skype. It will be a lot of fun and a great way to meet other interesting people. I hope to see you Friday!
An Introduction to Centering Prayer
Join me and Phil Jackson for a comprehensive introduction to this silent form of Christian meditation which teaches us how to rest in God, in pure simplicity and openness. Saturday, February 7, 9:30am-12:30pm at St Clement Catholic Church, Chicago. No fee.
A Day of Prayer or Meditation
I'll be leading a one-day retreat at The Portiuncula Center for Prayer in Frankfort, Illinois. The day will include mindful stretching, walking meditation, and lots of time for silent meditation, all in the beauty of this hidden gem of a retreat center. March 28, 9:00-3:00pm. $50
Integral Spirituality
I'm teaching an intro to Integral Spirituality at Infinity Foundation this spring. In it, I'll show how Ken Wilber's integral approach can help us to re-orient our spiritual lives to a more holistic, more comprehensive approach that embraces all that we truly are. March 2, 9, and 16, 7-9pm, at Infinity Foundation in Highland Park. $60 with early registration.
Embodiment Workshop: Entering the Here and Now
Yoga Teacher Renee Zambo of WholeHealth Chicago is teaming up with me to present this six-week workshop. In it, we'll offer practices to open and relax body and mind, allowing you to connecting more deeply to the wisdom of your body. Experience what it feels like to relax into your deepest knowing.  Six Wednesdays starting April 22nd, 6:30-8:30pm, at WholeHealth Chicago, 2522 N. Clark, Chicago. Fee TBA.
We-Space Mysticism
Probably the most-loved program I offered in 2014 was a one-day workshop on what I'm calling we-space mysticism or, how Spirit shows up and is experienced in groups! I hope you'll come check it out. It's a very relational approach to spiritual practice, one that is intensely practical, somewhat intimate, and energizing. May 7, 14, and 21, 7-9pm, at Infinity Foundation, Highland Park, IL. $60 with early registration.
For more on these upcoming events, please check out my website's Upcoming Events page.
My guided meditations on SoundCloud have been played over 500 times. If you have the free SoundCloud app, you can listen to them using the app. Otherwise, you can play them directly from my website. Check out what one friend called "the best free Body Scan Meditation I've found!" https://soundcloud.com/billepperly