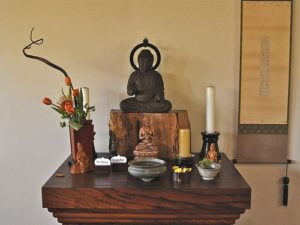 Here you will find resources to support the practices and new behaviors you're learning. Learning a new practice can be like unlocking a treasure house. Having learned these practices from others over many years, or discovered them myself, I offer them to you.
Check back often as I will be adding new resources regularly.
Audio Resources
Friends have asked me to post these guided visualizations and practices after experiencing them during workshops and retreat days. You can find them on SoundCloud, just a click away! If you have a smartphone, you can get the free SoundCloud app and listen to these tracks using your phone.
Work – Life Balance resources
Chris McKenna's article, "Getting Real About Exhaustion" has some excellent ideas for how to rejuvenate and renew yourself without leaving home or spending a dime. Basically, he suggests creating a monthly 2-3 hour meditation retreat that includes meditation in the four classic postures: lying down, seated, standing, and walking.
The Science of Mindfulness
The Mind & Life Institute is dedicated to scientific research in the neuroscience of mindfulness and meditation.
Centering Prayer resources
Thomas Keating on the seven stages in the practice of Centering Prayer. (see http://www.contemplativeoutreach.org/newsletters-archive for more of these!)
Available Programs Include
Talks
Perspectives on Spiritual Direction, a discussion of the contemporary practice of spiritual direction, its historical roots, and its role in spiritual life
The Many Gods of Christianity, a look at how our psychological development opens us to new perspectives on the Divine.
Unplug the Christmas Tree, an interactive discussion on how to bring meaning and richness back to the holiday season.
The Three Faces of God, a consideration of three perspectives on God, the 1st, 2nd, and 3rd person (experiential component optional)
Waking Up and Growing Up, the Path to Mature Faith, a discussion of how psychological growth and spiritual practice aid our movement into greater fullness of expression
Workshops
Essential Spirituality, an eight-week exploration of contemporary practices
Harvest of Gratitude, a one-day retreat for practitioners of Centering Prayer or meditation
Cultivating a "We Space:" Co-creating Spiritual Community, an experience of deep connection and community
Integral Spirituality, a one to two-day retreat for contemplatives which integrates small group exercises to create a beautiful sense of the Divine in self and neighbor
Day of Zen, a one to two-day zen-style retreat for experienced practitioners of Centering Prayer and/or meditation
The Monk and the CEO: Healing the Father-Son Relationship, a one to two-day workshop for individuals wanting to take up the good work of building a loving father-son relationship.
Other Programs
Development in Film: a look at the developmental path illustrated with excerpts from recent films